Great deal to travel the Alpine Route, Takayama, Matsumoto Area and more
Unlimited rides on JR conventional lines running between Nagoya – Gero – Takayama – Toyama, and between Shinano-Omachi – Matsumoto – Nagoya!

Unlimited use of transportation within the Tateyama Kurobe Alpine Route (between Toyama – Tateyama – Murodo – Daikanbo – Kurobe Dam – Shinano-Omachi)
This pass covers the following transport services and routes.
Non-reserved seating on JR limited express, express, rapid, and local trains between Nagoya station – Toyama station (via Tokaido/Takayama lines) and between Shinano-Omachi station and Nagoya station (via Oito/Shinonoi/Chuo Main lines)




* Use of Home Liner excluded

Between Dentetsu-Toyama and Shinano-Omachi within Alpine Route. Non-reserved seating on Toyama Chiho Railway limited express trains between Dentetsu-Toyama station and Tateyama station included.
Here you can find the map for this route: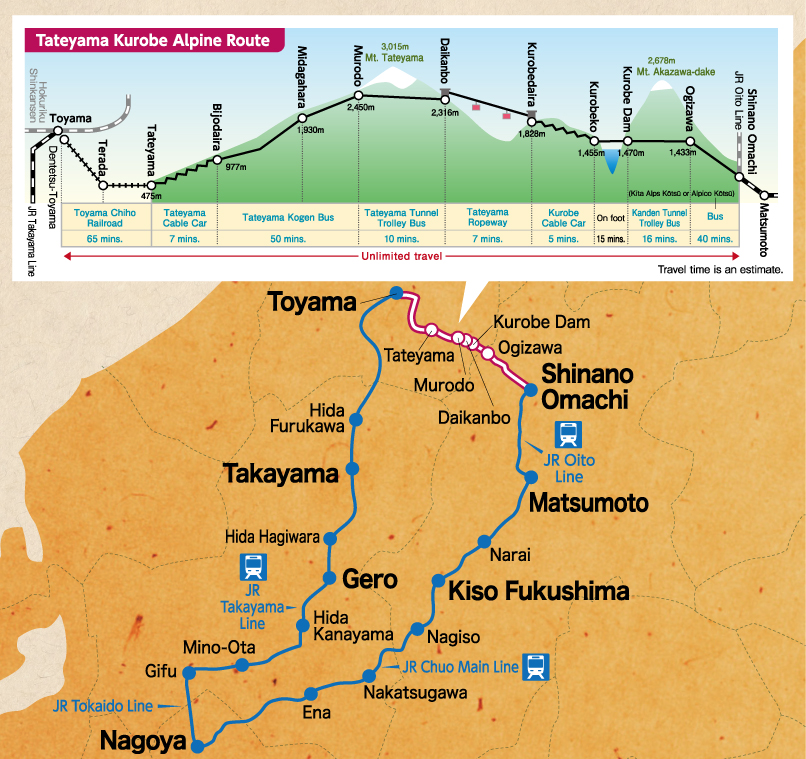 Points to note:
Passes can only be used by the persons who have obtained them, and may not be transferred or loaned to anyone else.

To begin using your pass at the station, have it stamped by station staff at the ticket gate.

If dates change while you are on board, reaching the day following that of the end of the validity period, basic fares will remain valid until you exit the first ticket gate, and additional fees will remain valid until you get off the train you are traveling on the last day of the validity period.

You will not be able to go through automatic ticket gates at the station with your pass. When going through ticket gates, choose manned ones, and show the pass to station staff to let them know about the validity period.

Always have your passport with you during your trip, and be ready to present it if requested.

Refunds of MCOs or passes




MCOs to be exchanged for passes can be refunded at the store of purchase for a year after issuance. * You may be separately charged a commission. We recommend that you exchange your MCO immediately preceding use.




Passes may not be extended or refunded due to the suspension of train services, delays or other reasons. Likewise, additional expenses for transportation, accommodation, etc. due to schedule changes will not be refunded.

Re-issuance is not possible.




MCOs and passes may not be reissued even if lost, stolen or soiled.
Using JR lines:
The pass does not allow you to use the Green Car (first class cars). If you wish to ride in the Green Car, you will be required to pay express/Green Car fees separately.

Refunds of basic fares and fees will not be issued, even if you do not use reserved seating the full four times allowed by the pass.
Conditions for use are based on the regulations of JR Central, JR West and their affiliated companies, as well as on the laws of Japan. The Japanese version of the conditions of use will take precedence if any doubts arise over versions in languages other than Japanese.
The MCO's validity in the period before it is exchanged for a pass will depend on the regulations of the company issuing the MCO.

Any use of the pass that violates its terms and conditions or the JR Group's regulations, terms and conditions may result in invalidation and confiscation of the pass and imposition of a penalty amounting to twice the basic fares and charges for all transportation services for which the pass was used.
Thank you for trading with us ! We wish you have a good journey !
| | |
| --- | --- |
| | |
| | |
| --- | --- |
| | |
Online: 1

Day: 1

Week: 61

Visitors: 45373