Ise - Kumano Adult Area Pass:

Unlimited rides on JR conventional lines running between Nagoya - Matsusaka - Owase - Kumanoshi - Shingu - Nachi - Kii-Katsuura, and linking Taki - Iseshi - Toba!

Reserved seats on ordinary cars of JR conventional lines in the area can be used up to four times!




Examples of using reserved seats on JR trains: Limited Express "Wide View Nanki", Limited Express "Kuroshio" and Express "Mie"
Transport services and routes covered by this pass:
Non-reserved seats of ordinary cars of JR and Ise Railway limited express, express, rapid, and ordinary trains between Nagoya – Kii-Katsuura station (Kansai line, Ise Railway line and Kisei line, including via Kameyama) and Taki – Toba station (Sangu line).

Mie Kotsu Buses: Geku-Naiku line, Ise/Futami/Toba Excursion Bus "CAN Bus", Owase station - Washige, Owase station - Segiyama - Kumano Kodo Center, Kumanoshi station - Senmaida and Tori-toge pass entrance

Kumano Kotsu Buses: Katsuura station - Nachisan, Shingu station - Hongu Taisha-front, Shingu station - Koguchi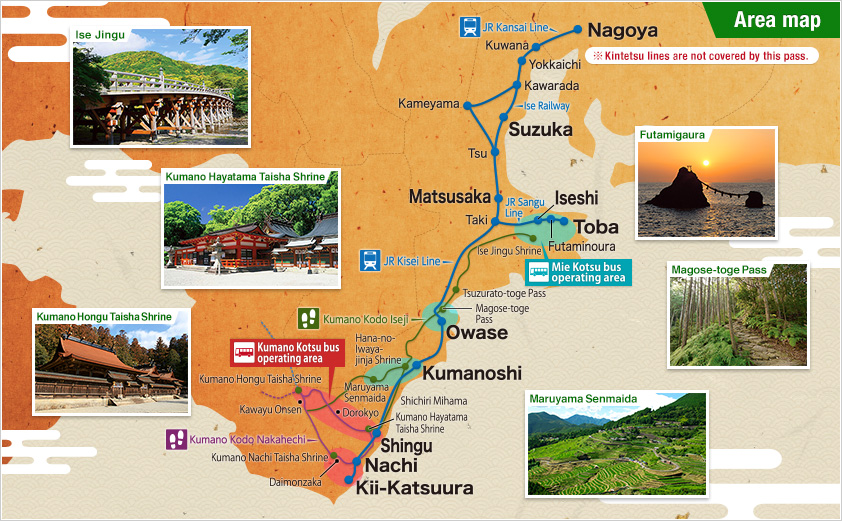 Thank you for trading with us ! We wish you have a good journey !
| | |
| --- | --- |
| | |
| | |
| --- | --- |
| | |
Online: 1

Day: 1

Week: 61

Visitors: 45378