Be sure that JAPAN RAIL PASS cannot be purchased inside Japan. You must buy JAPAN RAIL PASS from official agent of JR Group outside Japan.
So how to obtain?
Step 1: Before you come to Japan
Purchase an Exchange Order from one of the following authorized sales offices or agents.
In Vietnam you can get Exchange Order from OREEN TRAVEL - the official agent throughout Vietnam.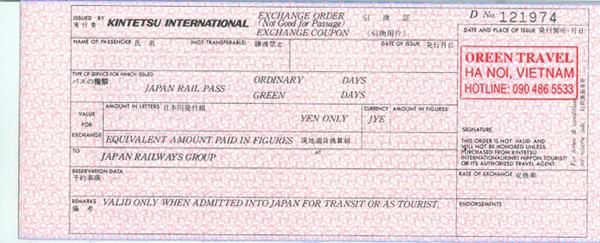 Exchange Order sample supplied by Oreen Travel in Vietnam
Step 2: After you arrive in Japan
Present your Exchange Order and obtain your JAPAN RAIL PASS
To receive your JAPAN RAIL PASS, you must turn in your Exchange Order and present your passport at a JR Pass exchange office in a major JR station.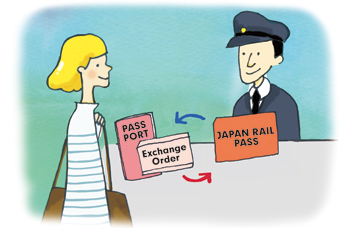 Note:
You must present your passport in order to receive a JAPAN RAIL PASS (No JR Pass will be issued without passport presentation, a photocopy of your passport will not be accepted as a substitute.). You will also be required to show proof that you meet the conditions indicated on "Who is eligble ?" both at the time of Exchange Order purchase and when you turn in your Exchange Order for a JAPAN RAIL PASS.
| | |
| --- | --- |
| | |
| | |
| --- | --- |
| | |
Online: 1

Day: 1

Week: 64

Visitors: 45337